Maytag M1200 80 Two-Stage Variable Speed Gas Furnace
80 AFUE High Efficiency Gas Furnace Two-Stage Fixed Speed

---
Depend on Maytag
Maytag, the name that stands for reliability and dependability, offers you the perfect choice for consistent home comfort. Let cool winds blow outside, because your Maytag furnace will provide a consistent temperature inside while improving air flow and air quality for your family. When you add a Maytag 80% AFUE two-stage gas furnace to your home, you invest in comfort and worry-free performance for years to come.
Saving Money and Conserving Energy
Your Maytag gas furnace has been evaluated with the Annual Fuel Utilization Efficiency scale, or AFUE. The higher the number, the more efficiently your furnace operates. The 80 AFUE rating means that the furnace functions at 80% efficiency, which can save you more money on your utility bills than older, less efficient furnaces. Your furnace's two-stage technology can also save you money.
The two-stage feature adjusts energy consumption based on the outside temperature so your furnace will not use more energy than necessary.
Maytag Peace of Mind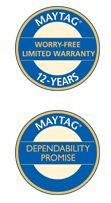 Just as you expect from Maytag, this Maytag furnace offers one of the best warranties available in the industry. The 12-year Worry-Free Limited Warranty on parts as well as the Dependability Promise reflects Maytag's commitment to you. Participating dealers may also include 12-Year Labor with your product. Ask your select Maytag heating and cooling dealer for details or click on the warranty logo for more information.
Consistent Home Comfort
Below are key features and benefits of Maytag's 80 AFUE two-stage, fixed-speed gas furnace.
80% AFUE* promises a practical and energy efficient heating system.

Two-stage furnace technology automatically adjusts energy usage based on the outside temperature, which increases comfort and reduces energy consumption.

Smart Start® state-of-the-art control board learns the start-up characteristics of the furnace as installed in your home. It adapts to the most efficient start–up time extending the life of the igniter.

Each unit features a painted cabinet trimmed with brushed stainless steel, unique to Maytag furnaces.

Furnace offers limited lifetime warranty on the heat exchanger.

The unique burner design and the insulated blower cabinet provide clean and quiet operation.

iSEER® blower technology helps increase the energy efficiency performance of your air conditioner up to 1 SEER.